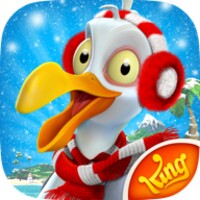 Paradise Bay
Paradise Bay, a management game that differs greatly from anything you have ever experienced before, lets you take care of this island from the perspective of the tropical island natives
Category

License

Free

Version

3.9.0.7844

Developer

King

OS
Paradise Bay, a management game that differs greatly from anything you have ever experienced before, lets you take care of this island from the perspective of the tropical island natives. You will first need to understand the fragile ecosystem to ensure you help nature grow as the economy continues to prosper.
One of the chief goals of the game is to blend both the island development capacity and the natural equilibrium. This includes traders, explorers, islanders and travelers. Your biggest goal is to maintain continual peace and tranquility on the island of paradise. In terms of gameplay, it feels almost identical to some of the other management games you find. First, you construct buildings, next you improve the economy and do your best to amp up the production levels of the services and goods.
As you accumulate resources, you will start to uncover a host of new worlds in your vicinity. You can take each of your citizens to visit these locations so that they will enjoy the natural beauty. As you manage your own island paradise, you will take care of animals, give them food and get them to do some of the basic tasks you might have like hunting and fishing.