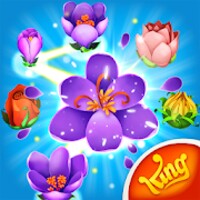 Blossom Blast Saga
Blossom Blast Saga is a puzzle game created by the makers of Candy Crush
Category

License

Free

Version

100.135.2

Developer

King

OS

,
Blossom Blast Saga is a puzzle game created by the makers of Candy Crush.
If you've spent countless hours playing Candy Crush along with your friends and family, Blossom Blast Saga might be the next game you should check out.
Created by the the game studio that made Candy Crush and Farm Heroes Saga, Blossom Blast Saga ports the Candy Crush game play concept to the world of flowers.
Like with Candy Crush, the object of the game is to match similar objects to remove them from the board as you progress through maps. In Blossom Blast Saga, flowers and petals take the place of candy and sweets. The greater the number of flowers or blossoms you match, the more points you score, and you keep the board clear for new blossoms on top of that.
Early levels are fairly simple, but later rounds require more strategy to deal with weeds growing on the board.
Like with Candy Crush and Farm Heroes Saga, there's a strong social component to Blossom Blast Saga. You can compete against your friends on facebook, and ask for or give power ups when needed between you and your friends. If you're a Candy Crush fan, this game is definitely worth a look.
Similar to Blossom Blast Saga