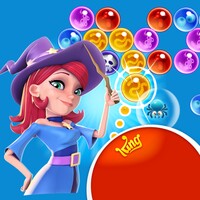 Bubble Witch Saga 2
Bubble Witch Saga 2 is a puzzle game in which you advance by popping bubbles
Category

License

Free

Version

1.141.0

Developer

King

OS

,
Bubble Witch Saga 2 is a puzzle game in which you advance by popping bubbles.
In the game, you advance through a magical world in a series of levels that you defeat by popping all of the colored bubbles. To pop bubbles, you attempt to match up rows or columns of same colored bubbles. A row of three or more is what you're shooting for, very similarly to the classic puzzle game Puzzle Bobble.
However, Bubble Witch Saga 2 has a twist on the Puzzle Bobble formula. In Puzzle Bobble, a completed row of three or more of the same color vanishes, scoring the player points. In Bubble Witch Saga, the bubbles don't vanish. Instead, they fall down into a series of cauldrons at the bottom of the screen.
Bubble Witch Saga 2 has a series of levels laid out in a map similar to Candy Crush. Between that Candy Crush homage and the take on Puzzle Bobble, it's fair to say that Bubble Witch Saga 2 is a kind of amalgam or mash up of the two beloved previous titles from the same game publisher.
If you're a fan of either Puzzle Bobble or Candy Crush, or just enjoy puzzle games in general, Bubble Witch Saga 2 will likely provide hours of entertainment.
Similar to Bubble Witch Saga 2