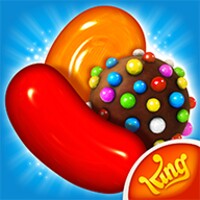 Candy Crush Saga
Candy Crush Saga didn't invent the match-three puzzle genre, but it largely set the formula for games in this genre and kickstarted its popularity
Category

License

Free

Version

1.236.0.3

Developer

King

OS

,
Candy Crush Saga didn't invent the match-three puzzle genre, but it largely set the formula for games in this genre and kickstarted its popularity. While it's easy to learn, levels quickly become challenging, and a wide variety of new obstacles and goals means that your skills are always being challenged. It's easily one of the more addictive takes on the puzzle genre, and persistent players will be able to work through content consistently without having to spend a penny.
That's not to say you have to worry about running out of content. Candy Crush Saga already has thousands of levels with more being added on a regular basis. You probably won't run out of levels any time soon, but a smooth learning curve and a nice variety to the levels keeps things fresh.
There are currently five different level types in Candy Crush Saga, and they each put an interesting spin on the traditional match-three formula. Moves mode takes the most traditional approach by asking you to hit a certain score in a given amount of turns. Jelly mode has you clearing jelly from particular spaces on the board, while Ingredients mode requires you to move ingredients to the bottom of the board. There's also a Candy Order mode that requires you to clear particular items. The most unique, and most recent, addition to the game modes is Rainbow Rapids, where you need to carve a particular path to your destination. Finally, some levels have multiple objectives - forcing you to balance your needs and prioritize your different demands.
Breaking up the monotony of constant play is the inclusion of milestone levels. Usually available every hundred levels of so, these milestones provide you with extra rewards and often include some new wrinkle to gameplay. The variety here actually adds a greater layer of strategy than you might expect from a match-three game. The biggest scores come from the biggest matches, but big matches also put special candies on the board which causes increasingly larger explosions when combined. It's a complication that forces players to think ahead and try to massage the board in their favor. The further you get into the game, the more you have to start thinking about chains and combos.
This is a game that's designed to be played every day, and it does an effective job of lopping in those sort of meta-game elements that are becoming popular in the mobile space. Game currency accrues in a piggy bank which can be broken open with real money, and there are both daily login rewards and daily challenges available as well. Mixing up the formula is the inclusion of global and local rankings and tight integration with Facebook. That's especially useful for the regular events that pop up over the course of the year.
Mostly, these events are there to keep you chugging along in the main game. They mostly incentivize you through the inclusion of boosters. These can give you an advantage like extra turns or bombs at the beginning of the game, or it can be used in a pinch to help in the final moment. There's a lot of content in Candy Crush Saga, and while there are ways to pay for a boost, it never pushes you too hard to stay in the game.
Pros:
Thousands of levels to play
Boosters mix up the match-three formula
Bright and colorful cast and setting
Cons:
Limited by regenerating lives
Starting to show its age
Similar to Candy Crush Saga