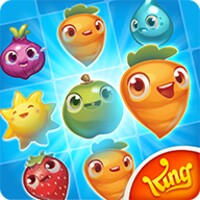 Farm Heroes Saga
Farm Heroes Saga is a puzzle game made by the creators of Candy Crush
Category

License

Free

Version

5.88.5

Developer

King

OS

,
Farm Heroes Saga is a puzzle game made by the creators of Candy Crush.
If you're a fan of Candy Crush, you're probably going to enjoy Farm Heroes Saga as well. Created by the same gaming studio who created the smash hit Candy Crush, Farm Heroes Saga trades farm products and fruit for sweets and candy.
The game play itself is nearly identical to Candy Crush, as you try to match farm products and fruit of the same type, causing them to disappear. The game features more than 100 different maps to master, all of which see you trying to match different fruits and other farmed goods.
Also like Candy Crush, Farm Heroes Saga features a strong social aspect within the game to heighten the enjoyment and community factor. You're able to request and give power ups and other game related items among friends and family who also play the game, and can compete on Facebook to see who can rack up the highest score.
It's the social part of the game where Farm Heroes Saga really shines. If you've got a big circle of friends who are all playing it, you'll have a fun little hub around which you can socialize on a daily basis, and it's an addictive game on top of that.
Similar to Farm Heroes Saga