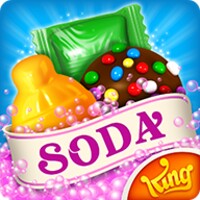 Candy Crush Soda Saga
Candy Crush Soda Saga is the latest installment of the puzzle game series Candy Crush
Category

License

Free

Version

1.226.5

Developer

King

OS

,
Candy Crush Soda Saga is the latest installment of the puzzle game series Candy Crush.
Fans of Candy Crush will be instantly familiar with how to play Candy Crush Soda Saga, as this new game follows the tried and true formula of the wildly successful Candy Crush franchise.
Candy Crush Soda Saga maintains the basic mechanics of the original game while throwing in a few tweaks and changes to keep things interesting.
Like in the original, your objective in Candy Crush Soda Saga is to match up sweets, candy with others like it in order to clear it off the board. Players can earn up to three stars on each level, and the game features 75 levels.
From a visual standpoint, Candy Crush Soda Saga follows the same kind of style as the original Candy Crush game, as well as spinoffs like Farm Heroes Saga and Blossom Blast Saga. That means lots of warm, bright and friendly designs.
As with all Candy Crush games, this game has a strong social component. You can challenge your friends on Facebook to top your high score and share your achievements.
For fans of the Candy Crush series, Candy Crush Soda Saga is another solid installment in the franchise, and worth a play.
Similar to Candy Crush Soda Saga