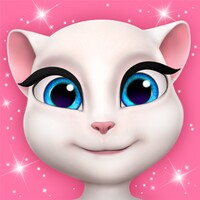 My Talking Angela
My Talking Angela is a virtual pet
Category

License

Free

Version

6.0.3.3500

Developer

Outfit7 Limited

OS

,
My Talking Angela is a virtual pet. While these types of games may have hit their zenith in the 90s with Tamagotchi, there's still a clear and present market for them in the world of mobile gaming. My Talking Angela is the female alternative to the popular pet My Talking Tom, and she builds on the formula established by her predecessor while also recognizing what Tom did right.
The fundamentals behind My Talking Angela aren't so different from games that came before. The anthropomorphized cat requires your attention, and she'll alert you to her needs whether that means being fed, groomed, or put to sleep. What differentiates her from early iterations of the formula is the sheer range of interactions. There's a substantive variety of grooming implements and ingredients to feed her, and the development team regularly adds new wrinkles to the formula with updates.
Angela's basic care is supplemented by a number of other features. A detailed dress-up system lets you test out a range of different styles on your cat and screenshot them to share with friends. A number of small micro-games are also available, and you can even let Angela adopt her own Baby Angela to care for.
Similar to My Talking Angela