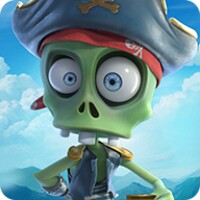 Zombie Castaways
Zombie Castaways is a game app that is based on resource collection and time spending
Category

License

Free

Version

4.41.5

Developer

VIZOR APPS LTD.

OS
Zombie Castaways is a game app that is based on resource collection and time spending. The story behind the game is quite enthralling. It involves a zombie who finds love in a living girl, so he decides to try to revert back to his human self so he can be with her. The game is essentially a love story in which you help the character unite with the love of his life.
In the world of zombies, you'll be able to find anything and everything you could need to make it through your quest. You'll be able to collect resources that you can then spend on buildings so you can travel more freely. As you collect more, you'll eventually be able to build your very own city. This will make it much easier to survive and even thrive in the world of zombies.
When you play Zombie Castaways, you'll be able to cultivate various fruits and vegetables that you can then use to cook meals. Find treasure by exploring the vast zombie world, and keep looking for those with the power to revert your zombie status to that of a human. Once you are human again, you must find your true love.
Similar to Zombie Castaways