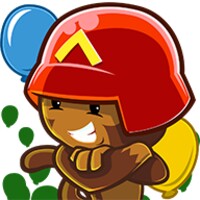 Bloons TD Battles
Bloons TD Battles is a piece of video game software that was made by the same developers who released the highly popular Bloons Monkey City
Category

License

Free

Version

6.16.1

Developer

ninja kiwi

OS

,
Bloons TD Battles is a piece of video game software that was made by the same developers who released the highly popular Bloons Monkey City. In that game, players had to develop a village and conquer new lands, but in this new game, the only goal is to beat the level presented to you.
Just like the original, this version is highly addictive and quite entertaining. The killer balloons are a nice new feature since they give you the chance to watch your enemy struggle to defend against such a powerful force. The game is all about strategy. The screen is divided and both players start with the same resources and environment. The better strategist is the one who shall emerge victorious.
When the game starts, you must use your saved money and your monkey warriors to attack the enemy. Be sure to properly gauge how much power each package of balloons offers, because that will become vital in the higher levels. If your enemy destroys your attacking balloons before they do any damage, they won't lose any lives.
As you improve your army and their abilities, you'll be able to advance further in the game. Practice makes perfect, and there are tons of levels to practice in this game.
Similar to Bloons TD Battles