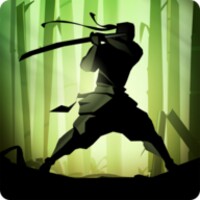 Shadow Fight 2
Shadow Fight 2 is a video game app that is similar to other sideview fighting games like Mortal Kombat
Category

License

Free

Version

2.22.1

Developer

NEKKI

OS

,
Shadow Fight 2 is a video game app that is similar to other sideview fighting games like Mortal Kombat. The game is in 2D, but the artwork is quite breathtaking in its detail and contrast. In the game, you play a warrior who lives in the shadows and uses weapons of all sorts to get past any enemy in his way.
While playing through the adventure of the main game, you'll come across various unique enemies. They will all behave and look differently, and they may require different tactics to defeat. Some enemies will be more aggressive than others, and some will be intelligent enough to sense any mistake on your part.
While the game does give you the option of fighting with just your body as a weapon, you are also allowed to take advantage of spells and weapons that can be bought. You can buy anything from a sword to a fire spell, and all of it will help you win more in combat. The battle controls use a virtual joystick and attack buttons, and you can set off different moves by triggering the attack button while pressing the joystick in different directions. You'll want to play this game for hours.
Similar to Shadow Fight 2