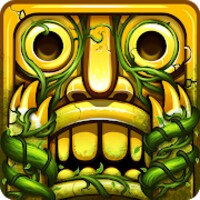 Temple Run 2
Temple Run 2 is an endless running style game in which your adventurer explores ancient temples
Category

License

Free

Version

1.92.0

Developer

Imangi Studios

OS

,
Temple Run 2 is an endless running style game in which your adventurer explores ancient temples.
The game is a follow up to the first Temple Run game, which was a massive hit, and fans of the original game will find the concept of Temple Run 2 quite familiar. The sequel keeps much of what made the original popular while adding some tweaks and new features to keep the game fresh.
Some of the new features included in Temple Run 2 include new obstacles, new power-ups, and special character-specific abilities. The new character abilities are especially interesting, as it makes playing the game with one character feel different than another. This gives a boost of the replay value of the game.
Another new feature in Temple Run 2 is allowing the player to toggle power-ups on and off at their discretion. This adds an new strategic wrinkle that players will need to consider as they dash through the levels.
Temple Run 2 has significantly upgraded the graphics and visuals from the original. The settings now have a greater level of detail and texture, making the experience seem more real.
If you're a fan of the original, or are simply looking for a fun and immersive endless running type game, Temple Run 2 is a good choice.