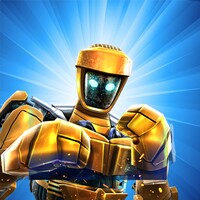 Real Steel World Robot Boxing
Real Steel World Robot Boxing is an arcade style one-on-one fighting game with robot combatants
Category

License

Free

Version

66.66.149

Developer

Reliance Entertainment Studios UK Pvt Ltd

OS

,
Real Steel World Robot Boxing is an arcade style one-on-one fighting game with robot combatants.
If you're a fan of either arcade style fighting games or the movie Real Steel - or better yet, both - then you might want to give Real Steel World Robot Boxing a look.
In the game, you fight one-on-one between the robot you control and an opposing robot, all of which are taken from the motion picture Real Steel.
The games controls are fairly simple and well designed for a mobile device. You can move your robot in any of four directions and execute three action options: You can do a strong attack, a weak attack and a defense move. By combining these actions with your movement, you can unleash a variety of combo moves to pound on your opponents.
The graphics of the game are gritty and stark, and your robots clank through their fighting moves convincingly.
Real Steel World Robot Boxing allows for both single player mode where you battle the computer and a multiplayer mode where you challenge your friends or other players online.
All in all, the game is a solid arcade style fighter game which has extra appeal of fans of the Real Steel movie.
Similar to Real Steel World Robot Boxing