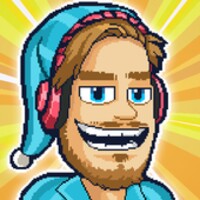 PewDiePie: Tuber Simulator
PewDiePie: Tuber simulator is a casual strategy game
Category

License

Free

Version

1.2.1

Developer

Outerminds Inc.

OS
PewDiePie: Tuber simulator is a casual strategy game. Hardcore gamers won't find much of a challenge here, but this is a good way to spend a few hours. The game's cute aesthetic and cameos by PewDiePie himself make it worth your time to download and try.
You start as a fledgling content creator dreaming of internet stardom. Increase your subscriber base to earn money. Spend that money on better equipment and skills or just decorate your room. Of course, you have to choose the right style and topic for your videos or no one will want to watch them. Eventually, you'll be a YouTube sensation.
This isn't the most challenging strategy game on the market, but it's a great way to try out the genre or just show your appreciation for PewDiePie.
Similar to PewDiePie: Tuber Simulator