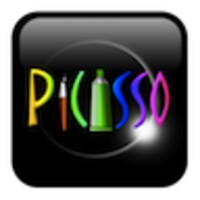 Picasso
Picasso is a free art development app for the Android system, and it gives you the ability to create art in many different ways
Category

License

Free

Version

2.2

Developer

DPs World

OS
Picasso is a free art development app for the Android system, and it gives you the ability to create art in many different ways. You can doodle, draw, or paint with ease, and you can add comments, emoticons, and hearts to your existing photos. Add scenery like castles, or give your friends fake mustaches and beards. If you want to simply doodle on a blank canvas, you can create any abstract image you want.
With the Brush Preview Mode, you can see what your set effects will do before you implement them in your work. You can do this by selecting your tool, then testing it in the preview panel. This is the only app of its kind with this sort of previewing ability.
With the new Spoid function, you can select the ideal color for your brush in the blink of any eye. The software now also includes the ability to zoom in and out with touch gestures, so you can easily make detailed changes and then see what they look like in context with the full image. The system includes the ability to undo the most recent five changes you have made, and you can create a gallery of your favorite images to share with the world.