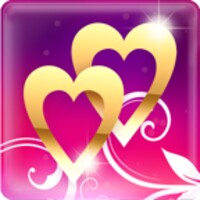 Hearts
Hearts Live Wallpaper from VicPlay is a free and fully comprehensive background app that includes a number of striking features, and the paid version includes even more features
Category

License

Free

Version

2.0

Developer

VicPlayLWP

OS
Hearts Live Wallpaper from VicPlay is a free and fully comprehensive background app that includes a number of striking features, and the paid version includes even more features. If you opt for the premium version, you'll get 10 themes, eight decorative elements for your screen, 13 backgrounds with amazing detail and color, animated hearts that fly across the screen, and the ability to pick what color you want for your decorations. There are ten varieties of hearts with gold and silver accents, and there are another seven hearts with gold, silver, and diamond accents.
The paid version also includes more than 30 designs for various flowers and hearts, all of which come in a variety of striking colors. You can change several aspects of the animation for each background, like the direction, speed, concentration, and much more. You can even use a photo heart locket as part of the background with any image you want.
When you add up all the different possibilities in the software, the combinations are almost endless. You can use the app in either landscape or portrait mode, and it is compatible with just about any screen resolution. The app is updated regularly with new features and functions.