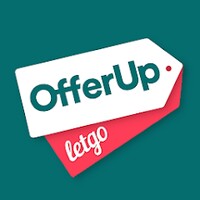 OfferUp
OfferUp is a free app to buy and sell items locally
Category

License

Free

Version

4.45.0

Developer

OfferUp Inc.

OS
OfferUp is a free app to buy and sell items locally.
Sell anything you have on hand - from baby shoes to cars. OfferUp makes it simple. The interface is easy to navigate: With a clean photo grid and highly searchable listings, you can find what you're looking for in a matter of seconds.
When searching for an item, you can filter the listings by category as well as proximity from your area. Instantly message sellers to work out a deal or a time and place to meet up. Once the transaction is completed, you can rate the seller and leave them feedback.
While listing items for sale, sellers have the option to mark items as "price firm" or indicate whether they will consider an offer. Buyers can make offers through the "Offer" button in the listing. After the sale, sellers can rate buyers.
The ability for buyers and sellers to rate each other helps keep this app safe to use: You'll feel comfortable meeting up with buyers and sellers who have proven to be trustworthy through the reviews on their profile, which you can use at any time.
Whether you're looking to sell or buy locally, try using OfferUp.